by Raye Yeow

ngapore's fourth Global Young Scientist Summit (GYSS) 2016 was held from 17 to 22 January 2016 at the Singapore University of Technology and Design (SUTD). It was officially opened by Mr Teo Chee Hean, Deputy Prime Minister and Coordinating Minister for National Security, and Chairman of National Research Foundation Singapore, on the evening of 17 January 2016.
Today, over 600 million people worldwide are over the age of 65. This global silver population will continue to grow rapidly and is projected to hit 1.6 billion by 2050 (An Aging World: 2015), which equates to about 17% of the world's population.
This increase in the ageing population will also bring in public healthcare challenges, especially age-related diseases, including stroke and sarcopenia. For instance, the global prevalence of stroke is 33 million people each year (Heart Disease and Stroke Statistics, 2015), whereby the stroke rate more than doubles for each successive decade after age of 55 years. Among these stroke patients, over 60% suffer from some form of upper or lower limb motor disability. Apart from stroke, individuals after age of 50 years face an annual muscle mass decrease rate of 1–2%; up to 13% of elderly individuals aged 60–70 years suffered from sarcopenia, which contributes to motor disability.
Motor disability inhibits the elderly individuals from being able to perform activities of daily living independently, which often leads to a lowered quality of life. Furthermore, they usually have to undergo regular therapy sessions to recover some form of upper or lower extremity movement. However, therapists-to-patients ratio will not be sufficient, considering a global ageing population and growing manpower constraints. Moreover, current rehabilitation robotic devices are bulky and driven by rigid linkages and joints, which can subject the patient's limb segments into a single plane of unnatural and uncomfortable motion.
In our lab, we developed soft wearable robots with the intent to empower elderly individuals in managing their motor disability, so that they can safely perform activities of daily living with the help of our robots, and experience a better quality of life. The soft robots created in our lab can be classified into three categories: Assistive, Protective and Augmentative. Each category can enable the elderly individual in various ways depending on his/her level of disability.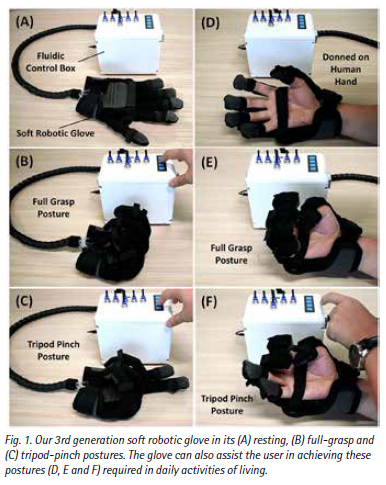 Soft Assistive Robots
Our soft assistive robots include the soft robotic glove and the soft robotic sock that serve to provide robot-assisted rehabilitation to the hands and ankle-foot respectively. Our soft robotic glove is capable of assisting the user with finger flexion and extension through the soft bending actuators that are embedded into the fabric glove material. These bending actuators are designed with specialized internal pneumatic networks that can expand into the desired bending conformation, given sufficient pneumatic pressure. Our 1st generation soft robotic glove has the soft bending actuators embedded onto the surface of the fabric glove. In our 2nd generation glove, we 'hid' the actuators within the glove and improved on the fluidic control box. And finally for our 3rd generation glove, we have developed a more robust industry-grade soft robotic glove, coupled with a sleeker control box (see Figure 1).
The soft robotic glove can be controlled using various methods, e.g. button control, myoelectric control, as well as mirror kinematic control. The button control allows the user to press different buttons to achieve different desired hand postures, while the myoelectric control allows the user to achieve the target hand posture based on the muscle activation signal detected on the muscle sensor placed on the forearm. The mirror kinematic control allows the user to map the hand posture of the sensor glove worn on his/her healthy non-paretic hand to the soft robotic glove worn on the paretic hand.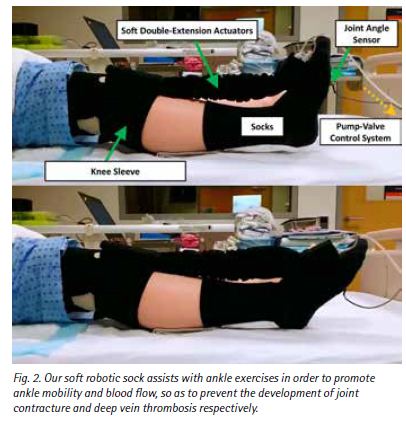 For the past 3 years, from inception till the current ongoing clinical trials, this soft robotic glove research was supported by the Ministry of Education and A*STAR, and was featured in various local and international media, including Channel NewsAsia, Okto and Discovery Channel Canada. The technology has also been licensed to NUS startup, Roceso Technologies Pte Ltd, to commercialize the soft robotic glove as EsoGlove, which will cater to local and regional healthcare institutions as a highly portable wearable rehabilitation device. Roceso is also Singapore's 1st soft robotics company that will target the biomedical sector with her soft robotics solutions.
In addition to the soft robotic glove, we developed a soft robotic sock to assist chronically bedridden patients in early ankle mobilization in order to prevent the development of joint contractures due to prolonged immobility (see Fig. 2). Moreover, the robot-assisted ankle-foot exercises can potentially promote blood flow and reduce the risk of developing deep vein thrombosis, which can be life-threatening.
Instead of the soft bending actuator used in the soft robotic glove, the sock uses soft double-extension actuators that provide a push-pull mechanism to exercise the ankle into dorsiflexion-plantarflexion. The soft robotic glove can also be controlled using the same concepts like the glove, particularly the button controls, myoelectric control and mirror kinematic control. This project, funded by the Singapore Millennium Foundation and the National Healthcare Innovation Centre, is currently undergoing clinical trials at the National University Hospital.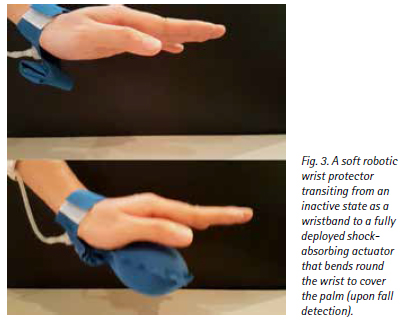 Soft Protective Robots
While it is extremely important on one end of the healthcare spectrum to provide robot-assisted rehabilitation to elderly patients suffering from some forms of physical disability, it is also necessary to place our attention on the other end of the spectrum, which is prevention.
In our lab, we looked into designing soft protective robots that can help prevent elderly individuals from sustaining injurious impact during falls. We envision wearable robots that can detect fall events and immediately deploy their shock-absorbing actuators to target the joint of interest and protect it from potential fractures that can lead to physical disability.
We have developed a soft robotic wrist protector that can function as a wristband, but once it detects a fall, it will deploy over the wrist to the palmar side of the hand through a fabric-based soft bending actuator to provide shock-absorption during impact (see Fig. 3). Wrist protection is essential, as wrist fracture is the 2nd most common elderly fall injury that will lead to prolonged upper limb disability and reduced independence in performing daily activities of living.
Soft Augmentative Robots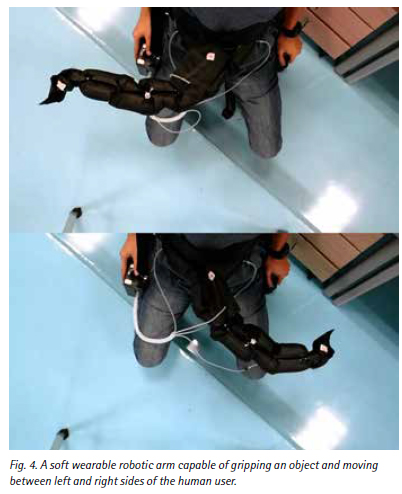 This new class of soft robots is relatively more futuristic, where its applications can go beyond the MedTech sector. The aim of soft augmentative robots is to empower human users with additional arms or legs that can assist with task performance and effectiveness, especially for elderly individuals who are suffering from some levels of physical disability.
Our first venture into this space is the soft wearable robotic arm. This robotic arm is made entirely from fabric, and is capable of multi-directional motion, including yaw and pitch actions (see Fig. 4). It is also equipped with a soft gripper as its end-effector, allowing the user to grip objects in a compliant manner without causing over-gripping damage. This supernumerary arm can be worn as a belt, and can be deployed into a fully functional robotic arm via our fluidic control system.
Subsequently, we will incorporate computer vision and autonomous control into our robotic arm system, such that it is capable of actuating itself to collaborate with the human arm actions. For instance, when two human arms are involved in lifting a large object, the robotic arm detects the activity and deploys itself as a 3rd or 4th arm to assist with the lift. This will also be useful for wheelchair-bound patients with paretic arms where the soft robotic arm can be worn on a wheelchair, and can help the patients grip or hold items from the surrounding environment through either autonomous control or joystick-based control.
Soft Robots Everywhere
Soft robots complement current 'hard' traditional robots in the aspect of compliant actuation, safe force output range and lightweight wearability. These features make soft robots a very strong candidate for safer human-robot interaction and collaboration. In the healthcare space, soft wearable robots are likely to become an essential component of physical rehabilitation, where patients can now conveniently bring these devices to conduct safe at-home robot-assisted rehabilitation.
Elderly individuals equipped with soft robotic protection devices will unlikely develop detrimental fall injuries and thus able to lead a better quality of life. Furthermore, with robot augmentation, human users will be capable of accomplishing complex tasks with greater effectiveness through attachable autonomous arms (or legs).
Our lab seeks to lead the soft robotics innovation in this part of the world, creating new wearable platforms to assist different musculoskeletal joints in rehabilitation, protect the human users in daily locomotion, inspire novel ways of collaborating with the wearable robot to perform tasks more effectively, as well as nurture the next generation of soft roboticists.
Raye Yeow is an Assistant Professor with the Department of Biomedical Engineering at the National University of Singapore since 2012, and an affiliated Principal Investigator with the Singapore Institute for Neurotechnology and the Advanced Robotics Center. He received his BEng. (2006) and PhD (2010) in Bioengineering from the National University of Singapore, and his postdoctoral training in the BioRobotics Lab at Harvard University (2012). He was awarded the NUS Overseas Postdoctoral Fellowship (2010), NUS Young Investigator Award (2014), Yamaguchi Medal (2015) and MIT Technology Review Innovators Under 35 Asia (2016). His research interest is in developing soft wearable robots for a wide range of applications, particularly healthcare, assembly-packaging and defence. He is also a scientific advisor to four start-up companies working on medical wearables.
Email: bieych@nus.edu.sg
Lab YouTube Channel: https://www.youtube.com/user/theeiLab)

Click here to download the full issue for USD 6.50